Another great Central Point Success Story…
Congratulations to Jon & Becca Griffey on the sale of their current home and the purchase of their new one!
We met with Jon and Becca as they began thinking about their needs for a larger home.  We were able to visit about what they could do to increase the value of their current home, and things they could do to get it ready to go on the market.  As they worked diligently on those things, we were able to also start the process of looking for a new home that would meet their needs.
With great communication and candid feedback, we were able to look at all the market had to offer and narrow our sights on the perfect house for them.  We found it!  And once we did, we knew that we could list their home in one of College Station's most popular price ranges and neighborhoods, Edelweiss Estates, and it would sell.  And BOY did it sell!  We had multiple offers within the first 24 hours and because of high demand, it sold for well over asking price!  What a remarkable success story!  Due largely in part to the hard work and effort of the homeowners, coupled with the guidance and market expertise of our real estate team.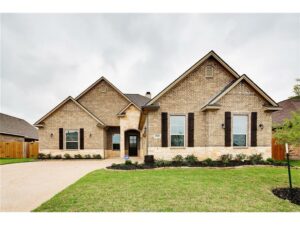 Now the Griffeys are settling into their new home in the beautiful Creek Meadows Estates subdivision where they will enjoy not only the beautiful benefits and character their new home has to offer, but also the amazing amenities of the neighborhood, as well as the joy of having quick access to Greens Prairie Elementary school located within walking distance of their home.
All of these amazing things will allow the Griffeys to enjoy their new home for years to come! Thank you Griffey family, for allowing Central Point Realty to be part of this real estate journey with you.  It was our pleasure to serve you, and we look forward to working with you and your friends and family in the future.
At Central Point Realty, we always figure out a way to WIN!